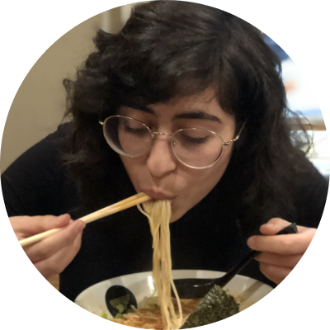 Summer Farah is a Palestinian American poet, editor, and critic. She is currently the outreach coordinator for the Radius of Arab American Writers and sends out the occasional essay at evening conversations. She writes the Poetry Double Features column at Palette Poetry, putting two collections in conversation each month.
With Jillian Meehan, she co-writes the biweekly newsletter currently on hiatus, Letters to Summer.
In 2021, she served as the poetry editor for the FIYAH Lit Palestine Solidarity issue. She also edited the folio ORIGINALITYISDEAD for Violet, Indigo, Blue, Etc.. She is a Winter 2022 Tin House Fellow and a 22-23 NBCC Emerging Critic Fellow. Her work has been published in or is forthcoming from Mizna, LitHub, The Rumpus, and other places. She was previously a book editor at Catapult and assistant at University of California Press. Check out her zine, "& I was so young when I behaved 25," poems inspired by Mitski, here. Her chapbook, I could die today & live again, inspired by the Legend of Zelda franchise, is available for pre-order from GameOverBooks here.
To inquire about manuscript consultations or book reviews, please use the contact form.